Migration to Production Electronics Manufacturing
Once all of the electronic prototypes are good to go, you need to migrate to production pcb assembly. While Screaming Circuits® is dedicated to the unique requirements in the prototype and low-volume/high-mix pcb assembly world, our parent company, MEC is a world-class, ISO certified volume electronics manufacturing company.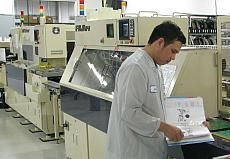 Our parent company, MEC (Milwaukee Electronics Companies) can handle your volume electronics assembly needs. MEC has high-volume surface-mount lines, machine and hand thru-hole placement, box build and complete test capabilities. MEC Northwest shares production floor space with Screaming Circuits here in Canby, Oregon. MEC Midwest is located in Milwaukee, Wisconsin, co-located with MEC Innovation, our engineering design and layout branch. For the highest volume, lowest cost production capabilities, MEC Southwest is located in Tecate, Mexico.
MEC has been in the EMS (Electronics Manufacturing Service) business for more than 50 years. Our electronic design and electronic contract manufacturing capabilities are focused on meeting the unique product and service needs of our customers.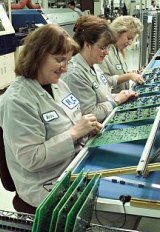 Quoting a production job is a little different than quoting a Screaming Circuits prototype job. We need just about the same information, but rather than using an automated process, one of our MEC customer service specialists will discuss your requirements and develop a quote tailored to the specific requirements of your job.
Assemble documentation: We will need several pieces of documentation to complete your order.

Bill of materials - In Excel format. The BOM should include: Your part #, the part Manufacturer's name, the Manufacturer's part number, Reference Designator, Description, and footprint (package)
Gerbers - Please send us all gerber files generated by your CAD program, as if you were sending them for fabrication. At a minimum we need silkscreen, copper and solder paste layers for assembly.
Assembly Drawings - not required for pc board assembly, but they do help to ensure all special PCB Assembly instructions are carried out properly.

eMail documentation: Put your documentation package into a zip file and email it to the following address: sales@screamingcircuits.com.
Call us: Call us at 1-866-977-6839 to discuss the details of your electronics manufacturing job.
Circuit Board Assembly Term Definitions
Prototype PCB Assembly:
With prototyping, flexibility is the key. We can put just about any part on just about any board in as little as 24-hours. To do this, we give each prototype pcb assembly order personal attention but don't keep the sorts of statistical data that a production process would need. We also don't invest in set-up and documentation for prototype builds. We assume that the order will not be done again or will change if it is run again.
Repeat Prototype Assembly:
Generally, we treat a repeat prototype assembly order the same as an initial prototype order. To maintain the maximum level of flexibility and responsiveness, we don't develop and keep a specific process for prototype pcb assembly orders. Each one gets personalized attention. In most cases, a second prototype assembly order will have one or more changes, so any processes would need to be customized again anyway. We do keep the stencil for 30 days, however, so if the order does not have any solder paste changes and repeats within that time frame, you will not be charged for a new stencil.
Pilot Production:
A short run of boards assembled in a standard manufacturing process prior to turning on volume production. It is designed to ensure the reliable manufacturability of the boards. This is where you start to see a difference between the Screaming Circuits process and the MEC process. MEC would use a pilot production run to ensure the manufacturability of the design and make any changes necessary to ensure consistent quality and low-cost. A pilot production run would typically be followed up with long-term volume production. In most cases, we would discuss transferring a true pilot production job to MEC.
Short-Run Production:
Like a prototype, short-run production could be just a few boards to just a few hundred per month. It could also be a single run. The key difference between a prototype and a short-run production board is in the end destination. Typically, if a board is going into a saleable product, we would call it a production build - even if it is just a single board.
Volume Production:
Again, production boards are going into a saleable product. Our volume production process is optimized for quality and cost. We have enhanced process documentation and offer electrical testing if requested.