Electronics Manufacturing:
From Screaming Circuits to Volume Production
Once all of the electronic prototypes are good to go, you may need to build in larger quantities. In addition to prototypes, Screaming Circuits® offers Short-Run production for higher volumes without the need to forecasts, NRE or volume commitments.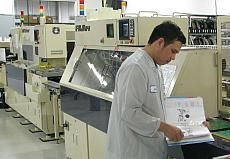 If you need to go a step further with scheduled production, our Parent company, Milwaukee Electronics provides a full-range of electronics manufacturing services; from original design to volume production and life-cycle management.
Milwaukee Electronics was founded in 1954 with a small footprint to serve niche regional needs. Today, Milwaukee Electronics has a global footprint and diverse customer base. Yet, its commitment to support complex projects with strong engineering requirements is unchanged. Whether you need fast project launch or a company with a track record of supporting products with 30 year lifecycles, Milwaukee Electronics has a solution.
Milwaukee Electronics has developed a business model that addresses key customer issues:
Comprehensive North American Manufacturing Solution - With manufacturing facilities in Wisconsin, Oregon and Mexico, we offer both U.S. regional support options and a migration path to a low cost manufacturing solution for mature product. This model improves responsiveness, shortens finished goods pipelines and preserves U.S. jobs.
Focused Solutions for Product Development - Product development and early prototype phases require a unique mix of support services. Our business model uses strategic business units to address these needs, providing customers with focused, responsive teams for both product development engineering support and quick-turn prototyping.
Global Sourcing & Business Processing - Materials represents the bulk of product cost. Our International Purchasing Office (IPO) in Singapore helps ensure competitive offshore materials options. Our India office helps speed machine programming and access lower cost engineering support, as required.
A Culture of Responsiveness - We combine a Lean manufacturing philosophy with a strong program management model to provide efficient, rapid solutions to our customers' most challenging requirements.
Committed to Our Business - Milwaukee Electronics is privately-held and financially strong. We have served some of our customers for decades. While we continue to evolve in terms of global reach and overall capabilities, our commitment to putting customers first remains unchanged.
Visit our parent company at MilwaukeeElectronics.com