Prototype Assembly Since 2002
Screaming Circuits®, a division of Milwaukee Electronics, has been providing prototype electronic assembly in a dedicated environment since 2002.

Milwaukee Electronics is one of the oldest electronics manufacturing services (EMS) providers in the industry. Originally founded in 1954, in Milwaukee, Wisconsin, to meet the needs of mining equipment manufacturers, we have continued to evolve as both an engineering firm and contract manufacturer. Our customers are our first priority and at Milwaukee Electronics, customer service translates to more than simply meeting customer needs.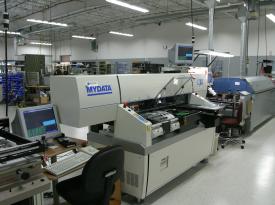 Screaming Circuits was formally organized in 2003, as a division of Milwaukee Electronics, as a response to the changing world of the electronics design engineer. We recognized that design teams were losing support staff, components were shrinking and project timelines were tightening.
As the process of assembling electronic prototypes became more difficult, traditional electronic manufacturing companies were focusing more on volume production and less on the demanding and variable requirements of prototypes. EMS companies would promise fast turn times but let prototype delivery continually slide behind volume jobs. Further, the purchasing support staff, at the engineer's company, was more often not available to help navigate the process.
Screaming Circuits, with online quote and ordering, designed around the needs of engineering design teams, was the answer.
Screaming Circuits Timeline
2002
Milwaukee Electronics started an internal initiative designed to give prototype assembly priority treatment.
2003
ScreamingCircuits.com opened for business as the industry's first e-commerce company dedicated to small volume prototype PCB assembly.
2003
Screaming Circuits partners with Sunstone Circuits (then known as PCBExpress) for blank PCB fabrication.
2005
Screaming Circuits adds RoHS capability.
2006
Screaming Circuits adds turn-key service, further reducing the prototype burden on electronics engineers.
2006
The Screaming Circuits blog comes online to deliver no-strings design for manufacturing information to the engineering community.
2007
Screaming Circuits receives ISO 9001 certification.
2008
Screaming Circuits introduces Shot-Run production service to manufacture small to medium quantity production volumes without the need for NRE, forecasts or future commitments.
2009
Screaming Circuits offers PCB Layout services.
2010
Screaming Circuits introduces ITAR prototype service.
2010
Screaming Circuits makes Sunstone PCBs available to be quoted and purchased at ScreamingCircuits.com
2011
Screaming Circuits partners with Element14 / Newark to allow Screaming Circuits assembly services to be accessed from their community site, The Knode.
2012
Screaming Circuits adds bill of materials quoting online to deliver the industry's first on-line, real-time full turnkey assembly quote and order.
2013
Screaming Circuits celebrates ten years of dedicated on-line prototype and small volume production services.
Contact Screaming Circuits today to find out how we can help you with your PCB assembly project, or get a PCB assembly quote online now.